WHAT IS THE INFINITY PROGRAM?
Infinity Program members have the ability to earn unlimited bottles of Oleander-4X to share with their prospects. To opt into the Infinity Program, you must first purchase an Infinity Pack.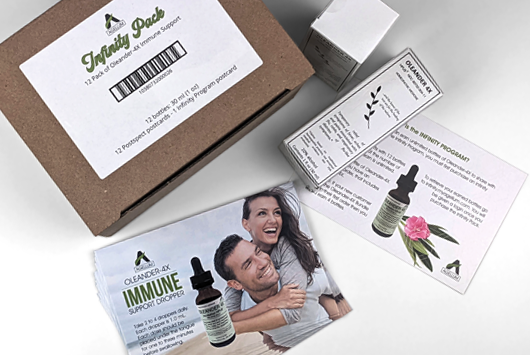 The Infinity Pack starts with 12 bottles of Oleander-4X but the number of bottles you can earn is unlimited.
Every time a new personal customer places an acquisition order, that includes Oleander-4X, you earn a bottle of Oleander-4X.
Example: If your new customer orders the Oleander-4X Bundle (qty4) in their first order then you would earn 4 bottles.
To heave your earned bottles sent to you, go to infinity.myagellum.com. Once you purchase an Infinity Pack, you will be given a login.
WHAT TO DO WITH YOUR OLEANDER-4X BOTTLES?
Use the bottles you earn through the Infinity Program to grow your business.
Start by creating and maintaining a list of prospects who would enjoy the benefits of Oleander-4X.
Put your bottles to work by sharing them with to prospects. In exchange for the bottle of the Oleander-4X, ask them to create a free Agellum account.
Give a Oleander-4X postcard with the bottle. Encourage your prospects to share how they are feeling. Let them know you will follow up in 2-weeks.
At the end of two weeks, follow up and inquire about their positive experiences with Oleander-4X.
Ask if they would like to continue their experience. If they respond yes, give them your referral link or help them log inot their free Agellum account. Ask for referrals and tell them about Share+Save Program.